ARTHROSCOPY & JOINT REPLACEMENT SURGERY
Getting you back
Into action!
People require orthopaedic care for a variety of reasons, from simple bone fractures to polytrauma cases. Our fracture care doctors and surgeons, specially trained nurses and staff provide comprehensive care for bone, joint, muscular and nerve conditions.
Our expert orthopaedic doctors are widely recognized for their surgical excellence and innovative abilities to treat both simple as well as complex orthopaedic cases. At Bhrungi Hospitals, our team of orthopaedic specialists uses the latest techniques and technology to improve treatment outcomes for patients with musculoskeletal problems and injuries.
From diagnosis through treatment, Bhrungi's top-ranked orthopaedicians are committed to delivering end-to-end care in the best interest of patients.
Bhrungi Hospitals is dedicated to providing an expert and personalized surgical approach to treating bone and joint problems so that our patients can manage their daily routine comfortably. With the winning blend of experience combined with cutting-edge skills, our top doctors for orthopaedic treatment can treat every bone, muscle, and joint disorder.
At Bhrungi, the decision regarding what procedure would be most effective is a collaborative process involving intra-department colleagues in various sub-specialities such as replacement & reconstruction, paediatrics, sports injuries, trauma, spine, foot, hand, shoulder, and elbow. This goes a long way towards reassuring our patients that they are receiving the best orthopaedic care.
Our top doctors for orthopaedic treatment prefer to use minimally invasive procedures, whenever possible, to reduce pain and enable faster recovery with shorter hospital stay. Our physicians, trained in internal medicine, radiology, physical medicine and rehabilitation, work together to ensure the well-being of patients.
Advanced trauma care and follow up
Knee, hip & shoulder replacement
Various ligament reconstructions
Management of arthritis for aged patients
Keyhole and arthroscopy procedures - knee,
shoulder, hip and ankle
Orthopaedic problems of children
Various ligament reconstructions
Minimally invasive surgeries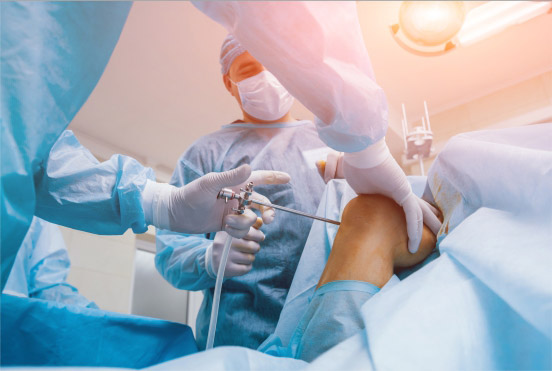 Advanced arthroscopic procedures
Arthroscopy is performed to diagnose and treat joint problems of various kinds. It allows the surgeons to see inside the patient's joints without making large incisions. It is done by inserting a narrow tube attached to a fibre-optic video camera through a small incision, about the size of a buttonhole. This procedure facilitates our orthopedic surgeons to study and understand the problem as the micro camera transmits the images to a high-definition video monitor.
For diagnostic purposes, arthroscopy is used if X-rays and other imaging studies fail to give the doctor a complete picture of the problem.
Our specialists also employ arthroscopy to also treat some types of joint damage with pencil-thin surgical instruments inserted through additional small incisions.
Our surgeons have expertise in arthroscopic procedures to treat conditions affecting the knee, shoulder, ankle and hip joints, such as:
• Loose bone fragments
• Damaged or torn cartilage
• Inflamed joint linings
• Torn ligaments
• Scarring within joints
Expertise in joint replacement
Arthritis, coupled with wear and tear on joints, can make even simple every day activities a pain – walking, climbing stairs, getting up and sitting down or reaching up for something. When there's no relief from the pain in spite of treatments such as physical therapy and medication, joint replacement surgery may be the best option.
A joint replacement procedure involves removal of damaged bone and cartilage, and replacing them with metal, ceramic, plastic or polymer parts. The artificial joint helps in improving function and reducing pain.
At Bhrungi, our experienced joint replacement surgeons have the skills to expertly perform the following procedures:
Knee replacement surgery: Also known as knee arthroplasty, it entails cutting away damaged bone and cartilage from thighbone, shinbone and kneecap and replacing it with an artificial joint made of metal alloys, high-grade plastics and polymers.
Hip replacement surgery: It involves removal of the damaged sections of the hip joint and replacing them with parts built from metal, ceramic or extremely hard plastic.
Shoulder replacement surgery: In this procedure, a plastic lining is attached to the socket on the shoulder blade. The top of the arm bone is removed and the surgeon inserts a metal stem with a ball on the end which fits into the socket to allow smooth movement.
Our fully-equipped operation theaters, intensive care units for pre- and post- operative care, rehabilitation services enable us to provide the best orthopaedic care in Hyderabad.
Our state-of-the-art orthopaedics and joint replacement surgery department is equipped with world class technology and equipment for diagnostics and treatment, including:
Laminar operation theaters